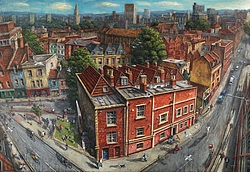 I was born in 1970 in Merseyside, I studied at Bath College of Fine Art. I have lived in Merseyside, Ireland, Yorkshire and now in Bristol.
My Bristol studio Jamaica Street Studios is at the centre of creative activity in the city.
My extensive portfolio of work covers a wide range of form and images; from my explorations of light and dark in the intricately detailed black and white drawings, to the fascinating land of the imagination where I transport the viewer into a world of darkly humorous and quirky characters as they play out their wit on paper.
I stamp my idiosyncratic style on my favoured subjects: buildings, and shine on them a new and interesting light. In my city scapes, I hope to capture the essence of places, the extraordinary and ordinary aspects of great cities without laboring on the mundane. The playful moving of buildings and eliminations to suit the final condensed composition is very much in the 'Capriccio' style. I seek to achieve the sense of standing on an ordinary rooftop overlooking backyards and every day life, being able to observe a place's highlights whilst being removed from them.