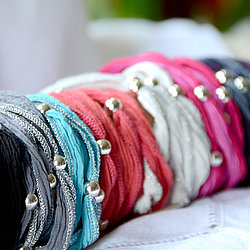 Adela Rome jewellery is designed and made by hand in London. With an emphasis on style and simplicity, the aim is to produce wearable, timeless pieces that will appeal to women of all ages who appreciate quality and style. The range features personalised necklaces and bracelets hand crafted using fine silver and semi-precious gemstones, as well as fashion jewellery inspired by a love of travel and exotic destinations. Designer-maker Zoe Maclachlan believes the stones are most beautiful in their natural state, so her jewellery embraces organic imperfections, freeform shapes and interesting colour variations, adding to its unique form. She never uses plastic or imitation stones.
The jewellery is made using quality materials including fine silver, sterling silver, hand dyed silk and semi-precious gemstones. All jewellery findings are sterling silver, underlining the focus on quality. Each item is beautifully packaged in silver and blue Adela Rome boxes and finished with a ribbon.
Zoe Maclachlan started Adela Rome in 2011 with a desire to design and make well-priced, stylish, good quality jewellery pieces that could be worn every day and that were not mass produced. Zoe named the brand after her grandmother Adela and her grandfather George H.S. Rome Maclachlan.