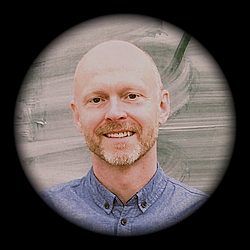 Artist and illustrator Adam Regester studied for an MA at London's Central St. Martins College before launching his multi faceted career in art and design.
In the 1980's he started creating an illustrative style based on breaking down complex images into simple and somewhat naive sketch work with bold block colour accents. This has developed into both a popular and commercial style that translates well not just as original art but also into print.
Adam's brand is inspired by local and iconic architecture and objects from everyday life. It includes original canvas art, prints, house portraits, cards, bunting, brooches etc.
Adam is a regular at art and craft events and sells via shops and galleries around the country. Recently he has also been commissioned to design fabrics, cushion covers, murals and more original artwork for yachts.
Keep an eye on him. You never know what he'll be producing next !