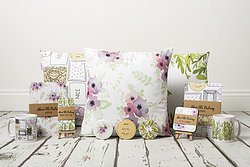 I'm a university graduate of Contemporary Textiles in 2012. I started Above The Railway soon after. I have always loved and appricated beautiful design for homewares and believe that everyone deserves a bit of luxury for their home. This is why I created an affordable collection of homewares and accessories.
My work is hand drawn/painted and then developed using illustrator. All my products are make in the UK
It was a fantastic opportunity for me to build a beloved hobby into a business. I have been expanding the product range slowly over the past few years. I started off with mugs, cards and tote bags. I am pleased to now introduce phone cases, coasters and tea towels. I am hoping in the not to distant future to also include a range of crochery.
I currently stock two shops within South Wales and I am hoping to expand this early next year.