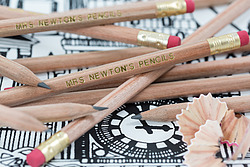 Able Labels was established in 1954 in the pretty town of Earls Barton in Northamptonshire. We have always prided ourselves in our quality and service, and as a personalised and bespoke product printer, in our attention to detail.
More recently Able Labels has come under new ownership and now has significant gift industry experience in-house. So alongside all our wonderfully traditional headed stationery and labels we have an ever-increasing range of personalised gifts, all printed here in the UK by the original Able Labels team.
We're also reintroducing some of our best ever heritage products such as Premium Able Wove stationery and packs of personalised greetings cards at amazingly keen prices.
Whether you are shopping for gifts or would like to contact us for your business or personal stationery and labels needs we are always delighted to hear from you.