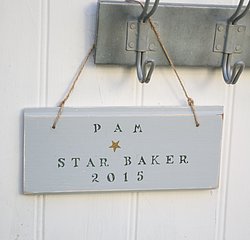 Welcome to Abigail Bryans Designs.
We're passionate about producing our handmade products in our studio in Wandsworth. From bespoke painted wooden signs, personalised jewellery storage, keyrings, blackboards, notice boards, upcycled jars and exquisite silk flowers, each of our timeless products are lovingly made just for you.
Designed with you in mind, our products help you to express your personality in your home – witty comments, loving words and memories captured in time. Whether you're looking for that special gift for your friend, an added extra for your home or styling for your wedding, we know you'll be able to find something in our unique range.
Happy shopping. Please let us know if you've got any special requests – we love hearing from you!
Abigail and the team x