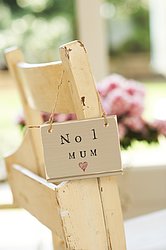 Welcome to Abigail Bryans Designs, bespoke products for your home, handmade in ours!
We've grown here in Southwest London – from kitchen table to little garden studio – and we're so proud to have turned our passion into a business that has partnered with notonthehighstreet.com since 2009.
Abigail Bryans Designs' story began with the intention of spreading a little joy! With a love of witty sayings only rivalled by her love of unique, upcycled treasures, Abigail designed and made signs to give as gifts to celebrate friend's birthdays, weddings or just to let them know she was thinking of them. As requests came in from friends and friends of friends, she began taking orders and the rest – as they say – is history. Requests for handmade signs quickly included jewellery hooks, hand painted keyrings and cutlery keyrings, blackboards and beautiful items for the home such as silk flowers.
Alongside Abigail's three children, her mother Judy is Abigail's biggest supporter. Together, Judy and Abigail make a formidable mother and daughter team and even though Judy celebrates her 80th birthday this year, she still paints signs and beautifully wraps each order as she has since Abigail Bryans Design's began. They so value the time they are able to spend together in the workshop – it really is very special. We still can't believe that our little dream to sell handmade, unique, personalised gifts is a reality – or that we see orders coming in from across the globe! Seven years later, we still love hand making each and every order that will delight our customers.
Designed with you in mind, our products help you to express your personality in your home – witty comments, loving words and memories captured in time. Whether you're looking for that special gift for your friend, an added extra for your home or styling for your wedding, we know you'll be able to find something in our unique range. We make each product to order so please let us know if you have any special request – we love hearing from you!
Happy shopping.
Abigail and the team x