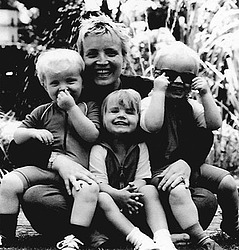 Having had three babies in a single year (a daughter, quickly followed by twins boys), I realised that there was an enormous gap in the market for intelligent, well designed and, often quite silly, products for children.
Contrary to popular belief at the time, children can appreciate good design and in my humble opinion if parents are going to be forced to play a game of snap for weeks on end, we can at least give them something nice to look at. Needless to say when I was in the midst of what I now refer to as the twilight zone with my three small children, I came across some truly mind-dumbingly joyless designs. I set up Two Little Boys Ltd to create the type of activity books and games I would have liked to have bought for my children. By then I'd become incredibly good at keeping young children occupied, so began to produce versions of games that I had already tried and tested and popped them into the 'Something to keep you happy when the grown ups are being really boring at the dinner table' books and activity tins.
On the same note, as a working mother I always resented the feelings of guilt that would wash over me whenever I discovered an abandoned baby book or family journal someone had bought as a well meaning gift. I'm sure we've all either received one or gifted one. The type that requires a good solid hour just to complete page one and is chucked in a drawer and forgotten about by page two, because you're too busy administering Calpol to actually write down when they cut their first tooth!
So, with that in mind, I created my own versions of family memory books, with the aim that they would be a joy to write in rather than a chore and with an ethos of minimum effort, maximum effect.
And as my little ones have grown, so has the company.
The 'I'm going to…' stationery range came as a direct result of my children reaching 'that age' of individuality and having distinctly different aspirations. The daughter who will change the world, the boy who can't take his head out from a book and is the ultimate geek and the boy who knows the price of everything and will, one day, so he says, be ridiculously rich.
And as they move inexorably toward leaving the nest, what better way to celebrate than with a range of (entirely useless) instructions on how to live in the modern world. The 'How to…' range covers everything from the inevitable Zombie Apocalypse to surviving University and identifying the signs of having one too many drinks. Needless to say the now teenage not so little boys will soon need to identify those signs!
On a more professional note, I have also produced bespoke activities for Babington House Hotel in Somerset and The Mandarin Oriental Hotel, Knightsbridge. Just thought I'd throw that in there to sound impressive - hopefully!