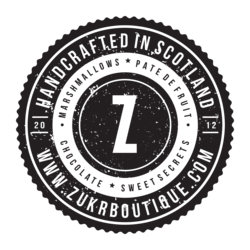 THE CHALLENGE
Made from scratch daily, our Zukr chocolate kitchen produces some of the most delicious treats you could imagine. Come by to try one of our unique and exclusive hand rolled truffles, pralines or fluid alcohol truffles and discover a world of exciting combinations and flavors.
THE SKILL
For our David it's all about originality. He does not use any transfer sheets, all his designs are hand painted directly onto the chocolates! Each batch has many steps some involve 15 different layers to create the final design. All techniques are secret therefore we cannot go into detail. The promise is that you won't find the same chocolates anywhere else.
IT'S ALL GOOD
We believe in quality without compromise, and in showing love and care each step of the way. We apply this philosophy to our produce, the equipment we use, and the vendors we work with. All of our packaging is made in the UK and our milk is delivered fresh daily from a local dairy farm. Honesty and integrity in all interactions and the handling of our products allow us to keep a clear focus. Sustaining quality, culture, our environment and the local economy is important to us, and we believe it leads to a better experience for you as well.
FINAL CONCEPT
The basis for the idea could be a contemporary chocolate that was born from a graphic and minimalist contraction of cultures. The design of the chocolates is reflected within the sleek house vogue and packaging line, thereby enhancing recognisability and a way of identity. Zukr formes a private vogue that shows the chef's delectable creations to best advantage.
FIND US
Our own shop: 3 Salisbury Place, Edinburgh EH9 1SL & online
Or at our stockists: Selfridges, Harvey Nichols, Hopetoun Farm Shop, Glendoick Garden Centre or at many of the Jelly&Gin events
SOCIAL NETWORKS
@zukrboutique