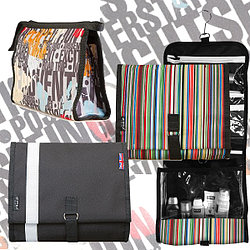 At ZPM our philosophy is to make products which, in the words of Andy Warhol, 'would ordinarily bore you suddenly thrill you'!
Zoe Phayre-Mudge mixes design-led, interesting or simply lovely prints into all her own product designs.
Items as varied as the now-famous 'Weekender' the original hanging wash bag, now over 16 years old and much emulated to great double-sided baby changing mats, bibs which go from flat to pelican in a popper, and the incredible 'Trolley-Dolly', a multi-pocket shopping bag, that helps you look gorgeous and be green.
Ideal products if you need something well-thought out, practical and want it to look good!