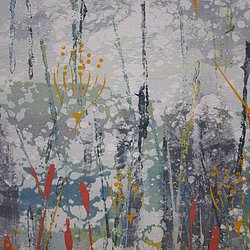 Zoe's work is the perfect union of her passion for nature and her love of pattern and colour. Since studying Fine Art BA(Hons) Zoe has explored many art forms and experimented with different media from her London studio. She creates unique pieces from her own sketches and exhibits regularly with a local art collective as well as bespoke commisions.
Her latest series of prints are mainly themed around flowers and birds and are the result of a creative mix of printing tecnhiques and fabrics. These multi layered images skillfully accentuate colours and perspective whilst playing with scale and leaving space to entice the viewer in. Inspired by intricate patterns and forms in nature these striking one-off pieces evoke tranquility and beauty.
These stunning pieces will add individuality and beauty to any home.
Zozos