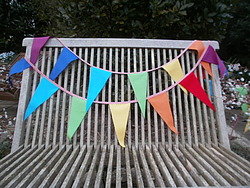 Zigzag Bunting will brighten your day!
We have a gorgeous range of bunting and garlands, from pastels and florals to spots and stars, many made to order especially for you.
We select beautiful high quality cotton fabrics and design unique bunting to compliment your colour scheme, great for parties in the home or garden and to celebrate special events such as weddings and birthdays, Christmas and Christenings. Never forgetting those National Sporting events.
Our wedding bunting is very popular, we have a very unusual and unique range of Bells and Tassels bunting to compliment your wedding venue. We of course also provide the more usual bunting for all types of events in a vast range of colours.
We now also stock a beautiful range of garlands in rustic tin and wood, including hearts, and sailboats, together with some simple paper buntings to add a touch of nostalgia.
Take a look!
Zigzag Bunting: beautiful bunting made to treasure