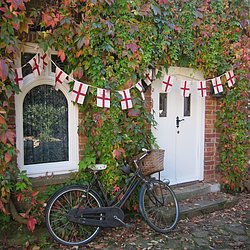 Zigzag Bunting will brighten your day!
At Zigzag we believe in supplying customers with beautiful, lasting products alongside a high level of customer service. Customer service is one of our passions and seen as a priority; we will go out of our way to ensure you receive your order promptly and are happy to respond to special requests and personalisation.
The bunting we make is made with quality cotton so that it can be used and reused on many occasions; being eco-friendly and beautiful.
We specialise in traditional buntings, particularly Vintage/Aged Union Jack Bunting which is hard to find elsewhere and supply to large and small businesses including Liberty, Harrods, Riverford Organics, to name a few.
Our Buntings are great for parties in the home or garden celebrating special events such as weddings, birthdays, Christenings and Sporting events.
Our wedding bunting is exceeedingly popular, used to decorate churches, venues, marquees, including a very unique range of Bells and Tassels bunting.
We have extended our range to include garlands and paper buntings to reflect our focus on quality and beauty and to increase the range available to our customers allowing us to offer a cheaper alternative. Available in rustic tin and wood, including sailboats, fashionable cupcakes and a romantic love garland. Look out for our new lines; Jungle leaves and Cloud Bunting!!
Take a look, you won't be disappointed!
Zigzag Bunting: beautiful bunting made to treasure