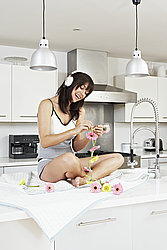 Nightwear that's so fabulous you'll want to flaunt it everywhere!
Outgrown your superhero PJs but not quite ready for the mumsy look? Here at Zade Home we may be a little cheeky, but we are absolutely serious about providing you with beautiful, modern nightwear that is fashion-led. It's time to ditch those PJs you wore in your teens and unleash the fashionista within.
Our products are designed in-house with you in mind. We work directly with our suppliers to produce stunning, modern designs using the most sumptuous fabrics that will make you look gorgeous. At Zade Home it's all about being cosy. But we love to spice things up with sprinkles of sass and lashings of glamour.
Zade Home is a dynamic online retailer which specialises in fun, fashion-led yet functional nightwear for both men and women. Zade Home's range of nightwear has been designed in-house with passion, flair and meticulous attention to detail.
Zade...not just for bed.