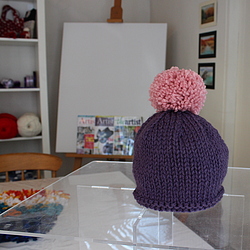 I design and make exclusive crafts. My aim is to produce high quality pieces using traditional craftsmanship. This is the place to buy beautiful gifts for your baby, child or yourself.
I only select the finest yarns in my exclusive designs.
Each item is handmade with care and love - ideal for yourself and your precious loved ones.
I learned my craft from my mother and grandmother who were wonderful knitters and I learned that there is no compromise on quality of finish.
I use wonderful yarns which are mixes of cotton, bamboo and wool. The yarns are machine washable on a cool, wool setting, but they can be gently handwashed.
All my pieces presented with a Yummy Knits printed label and in a crisp cellophane packet, with a berry tie.
Enjoy your browsing....