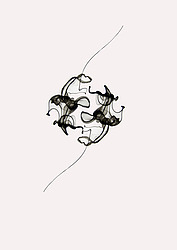 Hi my name is Ysobelle Grimshaw and I am a recent graduate from the Batley School of Art. My work consists of using a variety of different processes in drawing exploration.
A series of prints created through drawing exploration using traditional drawing materials and using them in an unconventional way. Step one: Draw in water: drop ink into water; Step two: photograph: photograph the marks the drops make; Step three: laser etch: edit photographs ready to be laser etched; Step four: dry point: use of digitally etched printing plate; Step five: enlarge: enlarge dry point and scan back into computer and Step six: print: print onto different materials.
My works can be hung up around any home either framed or unframed and would suit anyone with an interest in art, drawings and prints.