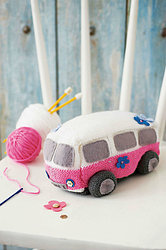 Here at The Little Knit Kit Company our aim is to provide unusual knitting, sewing and stitching kits designed originally for beginners. Our kits offer simple techniques whilst offering you an all round experience. We use only the best quality pretty bits and pieces to go into our kits and much of our stock is hand made in the UK.
We are an established family run company producing a fresh, contemporary approach on a traditional craft. Our aim is to make the craft much more appealing particularly to beginners and by doing so we have produced some up to date, fun designs combined with easy knitting techniques. All of our kits are put together by hand at our studio here in Wales.
We also offer a bespoke making service for our knitting kits, unique to your business. Commissions include The National Gallery, London and The William Wordsworth Trust.
Our workshop is on the tip of the beautiful Gower pennisular which much of our inspiration comes from.
If you require any further information on our lovely kits or for anything else please do get in touch, we little knit people would love to hear from you.