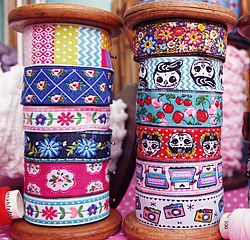 Rockin' Ribbons is a family-run business. We specialise in bespoke ribbons with unique designs that express ideas, feelings and personality; all woven to the highest quality.
Rockin' Ribbons are designed to bring smiles and brighten your gifts, crafts, decorations or any other project. Our designs are varied. From fine thoughts woven into a ribbon to our quirky and colourful exclusive and limited editions, we capture our dreams and ideas in designs which makes our ribbons unique.
Rockin' Ribbons is a team of two sisters which each one brings their influences and capture their surroundings into their designs. Roberta, a full time mum, loves colour, fonts and can spend hours designing from home in the UK. Michelle, full time mum and part time entrepreneur based in Germany, has a heart that beats for colorful and unique graphic design and textiles.
We both welcome you to Rockin' Ribbons and hope you have fun browsing our unique collection.