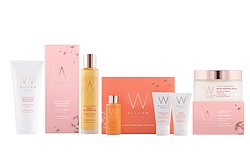 Bio-Organically Powered™
Natural and organic beauty pionner Sue Stowell launched Willow in 2007 with the hekp of her daughters Bonnie & Tamryn.
They set out to provide a range of nautral and organic products that would be kind to your skin and the enviroment.
Designed, formulated and made in Britain using superior, ethically sourced ingredinets that really work. 2015 brought our NEW Bio-Oganiclly Powered™ bodycare range.
The NEW Bio-Organically Powered™ range has been meticulously formulated to provide you with a complete bodycare experience. Innovative anti-ageing natural and paraben free ingredients form the structure of our products and have been carefully combined with our gorgeous signature fragrances to bring you a multitasking, result's driven and decadent spa range designed for bath and body, so that indulgence can be enjoyed everyday. The use of wonder ingredients including illuminating Tonka Bean, 'fountain of youth' Red Snow Algae and pluming Vegetable Collagen makes this range a must have all year round. From detoxing in spring to that perfect summer body, rejuvenating in autumn and for protection in winter, there is a product in this range to suit your ever need.
The range is split in to two signature fragrance collections to cater for everyone's senses. From multitasking bath and bodycare products, to elegant gifts and luxury scented candles, Willow's Bio-Organically Powered range combines innovative ingredients with heavily scents to bring you the complete package.
The Willow Promise: 100% Nautral, No Parabens, Sustainable, Effective, Bio-Organically Powered™, Not Testest On Animals, Made In The UK