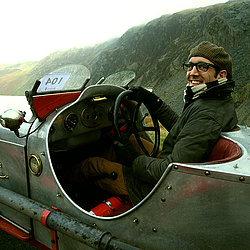 Bringing the art of contemporary silversmithing to everyday objects has always been a key factor in my work. My collections embrace our ability to enhance daily life with fine quality materials and craftsmanship.
Growing up with a family interested in vintage cars I have developed a passion for these cars and also the period of the 1920's to 1940's in general.
My collections are less visually inspired by Art Deco period, and more so the skills and techniques. These are the same that were used to create silverware for centuries, and these same techniques that I still use today were also employed when craftsmen were building cars in the 1920's & 30's
I have always wanted to create and design from a young age. Inspired very early by Giacometti as Swiss painter and sculptor I wanted to be an artist. With time I have evolved and developed my skills and focused more on building a collection of jewellery and silverware using both copper and silver. Working from my Bloomsbury studio in central London.I design and make all my work by hand.