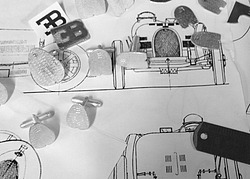 Will works predominantly in silver, designing and creating from his Bloomsbury studio.
Bringing the art of contemporary silversmithing to everyday objects, his collection embraces our ability to enhance daily life with fine quality materials and craftsmanship.
Will's latest work takes cues from the golden age of motor sport in the 1920's and 30's, reflecting skills and techniques used by the craftsmen who created history's most iconic cars.
His original inspiration was texture and landscape - particularly the cracks and splits in rock, which occur over the course of time. Reproducing these natural fissures in everyday-use silver items such as vases and bowls served as the identity of his early work, and the textures of rock formations continue to be reflected in both his major pieces and subsequent smaller creations. Will's art also embraces imperfections, as he hammers and moulds the metal into shape, bringing the allure of the natural world to his silver objects.
Combining inspired natural textures with elegant modern forms, Will has enriched and broadened the landscape of modern silver craft.