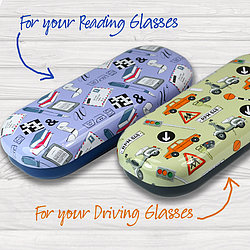 Looking for a totally unique and useful gift idea for dad, mum, grandparents, teachers, friends? Our individual glasses cases are perfect for anyone who has more than one pair of specs, and muddles them up in the usual identikit optician offerings - and you can add a personalised cloth to show not only which glasses are which, but whose they are. Never pick up the wrong specs again!
Designer Hilly Beavan explains how she thought up the idea: "Coming out of the opticians with four pairs of glasses, I could see an immediate problem. Which glasses were which? Were the ones in the blue case for music or reading? Which pair should live in the car? The only ones I could identify with any confidence were the prescription sunglasses.
No problem, I thought, there's bound to be a case featuring a treble clef in the music shop. But there wasn't. I searched everywhere, didn't find many specs cases at all, and none which helped in any way to identify what the glasses inside were for.
So we designed our own, and here they are. I knew I wasn't alone after spotting a friend's case with 'music glasses' sellotaped to the lid. So these designs are for everyone who has ever wondered 'which glasses are which?' I hope you like them and find them useful."
Update! Following the success of these cases, and in response to customer requests, we've designed three new cases - for your sewing and knitting glasses, for cinema and TV (distance) glasses, and for the gardener's glasses. Our new designs are also available with personalised options.