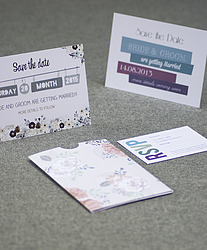 We Tie the Knot is a bespoke wedding stationery service providing beautifully designed stationery to perfectly compliment your big day. Our full range of papery goodness includes Save the Dates, Invitations, RSVP's, Order of Service booklets, Menus, Place Names, Thanks You cards and more.
As well as fabulous designs our pre-designed stationery collections can be customised to suit - additional alterations, changes to the colour palette and personalising the text are all part of our service. So have a browse through the choices to find just the right design for you - and please don't hesitate to get in contact if you're after something just a little more unique.
We Tie the Knot is the sister business of the branding and design partnership, a dozen eggs, and was founded by Frances Collins and Joanne Lloyd in 2012. Formally under the same roof as a dozen eggs Jo and Fran (and recently joined member, Chris) have taken the decision to separate their wedding service and give it a home all of its very own. We Tie the Knot is now solely focused on all things weddings!