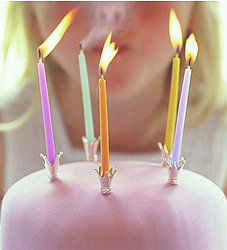 Here at Silver Celebrations there's always a good reason to celebrate. Celebrate that it's a pretty day, or that it's raining, that our favourite song is on the radio, the smell of coffee … but, above all we love to celebrate BEAUTIFUL DESIGN!
It all started at a party a long time ago. I was struck, as I watched my friend blow out the candles on her birthday cake, by the villainous little pink plastic candleholders that were disgracing the cake that I had so lovingly baked for her.
I'm a jeweller - devoted to details, and these birthday cake candleholders, straight out of the 1950's, were definitely due a revamp. Thus began my journey to improve upon a tired tradition.
Since that day, thousands of exciting things have happened. I've learned a lot from my small London studio and have been joined by a team. My silver-plated candleholders grace the cakes of celebrities and party princesses and have become an essential part of the creations of top chefs and cake designers as well as being stocked in some of London's finest stores.
My collection has expanded to include children's jewellery and many other silver gifts for special occasions. Whatever I make, it is always with a sense of fun, a love for the soft, glittering silver that I work with and an eagle eye on detail and quality.
My objective is always to create unique and precious pieces that will spread a smile and bring happiness. Beautiful objects for you to enjoy, treasure and love for a lifetime.
Viviana de Gallegos