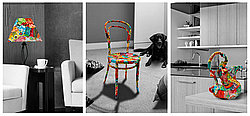 Viva Designs has a range of products, some being hand-made, others designed and made for us.
We enjoy covering retro style, rotary dial phones in cotton fabrics - making them a very unusual present or accessory for your hall table. They work - and children love rediscovering the old way of dialling.
Our best sellers are our Silk Kaftans inl vibrant gorgeous colours, in a variety of styles.
Our Indian Cotton Shorts are still as popular as ever, to be worn as PJ's or on the beach.
Many other gifts and accessories, for a present or to treat yourself
We hope you like our items as much as we do.
Vicki and Val