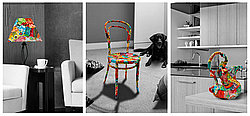 Following a charity bike ride to Rajistan, we were so inspired by the vibrant colours of India, that we knew this had to be our new way forward. We'd had a successful jewellery business, but it was time for a change. We returned home with wonderful India cotton fabrics, and began to upcycle reclaimed furniture. This has now been refined to children's chairs and retro phones which are hand decoupaged. Young children can't resist trying out our chairs, and adore them as a present to cheer up their rooms. The retro phones make an unusual present or accessory for the hall table. Children again love discovering the old style of dialling, and the older amongst us enjoy the nostalgic ring tone. We were so fortunate to have been featured in the Sunday Times Style Magazine, Country Homes and Interiors, Elle Decoration, Homes and Antiques, Alison Cork in the Evening Standard, Country Living and the Daily Mail. This reinforced the fact we were totally on the right track.
During our trips to India we discovered so many wonderful fabric products to expand our range.
Our best sellers are our Silk Kaftans in vibrant gorgeous colours, in a variety of styles. They are our own designs and we are able to choose our own lovely fabrics, and delighted to be providing much needed jobs in the neighbouring villages, knowing they are ethically compliant.
Our Indian Cotton Shorts are still as popular as ever, to be worn as PJ's or on the beach. We were delighted to see firsthand the cotton being printed.
We hope you love our products as much as we do.