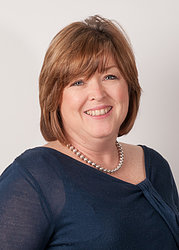 Hello and thanks for popping by my page. That's me, Karen and I run Village Green Soaps which is based in a small village in the beautiful Gloucestershire countryside.
The idea for Village Green Soaps started late 2010 after my soaping hobby became more of a soaping bug. Around that time I faced redundancy so I decided it was time to have my recipes tested by an independant chemist in order to comply with all the cosmetic regulations and I'm pleased to say they passed. I still love making soap today as much as I did back then and have now added to my range with lip balms, hand balms and soy wax candles.
I make all the soaps by hand in small batches following the traditional cold process method using only the finest, carefully sourced, sustainable vegetable oils, spring water and pure essential oils. Carefully selected natural herbs and botanicals give texture and colour to the finished bar. Once the soap is ready the bars are hand cut and left to cure for between four and six weeks. This allows the natural glycerine to remain in the bar of soap and results in a hard bar that will never go 'mushy'.
All my balms are made to the same exacting standard using mainly organic butters and essential oils.
Our soaps are tested only on family and friends and never animals. All of our soaps have been subjected to a Cosmetic Safety Assessment to ensure full compliance with UK and EU cosmetic safety regulations. We are members of the Guild of Craft Soap and Toiletry Makers.
I've gained lots of experience over the years and was thrilled to be picked by Theo Paphitis for an #SBS award - Small Business Sunday and have had some of my soaps featured in magazines. If you asked me to pick a favourite I couldn't but the Beer Soap still seems to be one of yours.
I take great pride and care here at Village Green HQ and I hope that whether your purchase is a gift for a friend or for yourself, you will enjoy it as much as I have enjoyed making it for you!! Don't forget if you ever see me at a craft fair or event in your area do say hello!