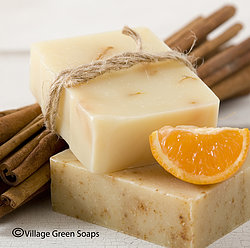 I love soap. And candles. And everything about what I create at Village Green Soaps.
From the choice of scent, to the making; the process of artisan soap production has joy in every stage. I still love making soap as much as I did when I first founded the business six years ago (I've won some awards along the way too and am a proud member of the Guild of Craft Soap and Toiletry Makers).
From my workshop in the Gloucestershire countryside, I have developed a range of soaps, balms and candles created by hand. My soaps are made in small batches following the traditional cold process method. I'm proud to use only the finest, carefully sourced, sustainable vegetable oils, spring water and pure essential oils. Whilst carefully selecting natural herbs and botanicals to give texture and colour to the finished bar and make every bar pretty (and unique), I rely on artisan methods and timings, and still leave the soaps to cure for between four and six weeks. This allows the natural glycerine to remain in the bar of soap and results in a hard bar that will never go 'mushy' (and yes, as a happy side effect the workshop always smells absolutely delicious).
It's important to know what you're putting on your skin isn't just pretty and smells nice (though everything at Village Green Soaps is both of these), so in addition all my soaps have been tested by an independent chemist and comply with all the cosmetic regulations. My soaps are tested only on family and friends and never animals and all of Village Green soaps have been subjected to a Cosmetic Safety Assessment to ensure full compliance with UK and EU cosmetic safety regulations.
I couldn't possibly have a favourite from the varied scents that I use, and I hope that you will enjoy using them as much as I do making them.
Love Karen x