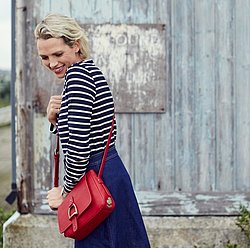 Founded by industry insiders Julia Dobson and Eddie Knevett, Village England came from the idea that you don't have to compromise to make a beautiful, affordable product.
We care about the details that make all the difference, always looking out for the extra features that make you smile; eye-catching hardware or a nifty extra strap when you want to go cross-body. We have pockets for purpose and linings that feel lovely. Deeply pigmented colours compliment our antiqued hardware. A product only reaches our collection if it passes the ooh-test; it has to be desirable, it has to make you swoon.
All of our handbags and accessories are made from carefully sourced, real leathers that will age gracefully, softening to buttery smoothness over time.
It's all about beautiful bags crafted for real life; something you fall head over heels in love with, yet isn't too precious that it can't be thrown in the back of the car.