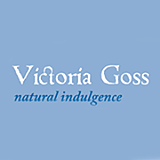 Victoria Goss started life as a pretty shop in the Georgian town of Holt in North Norfolk. Named after my grandmother I like to think that my inspiration reflects days gone by and my service is as friendly and personal as it was in Granny's day.
I specialise in products that are well made using quality fabric - you can be sure that all my ladies' nightwear is made of soft, comfortable, breathable cotton.
Everything you buy from me will be carefully wrapped in my pretty blue tissue paper at no extra charge but if you would like a particularly distinctive finish for a purchase then please select my gift wrap service and your present will be delivered carefully and beautifully wrapped in quality paper and tied up with a bow, all ready to delight the recipient!