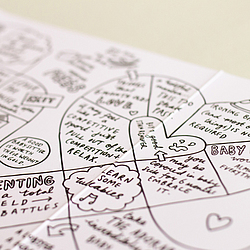 Veronica Dearly is based just outside West London and runs a design studio dedicated to spreading happiness and developing an antidote to stuffiness.
Featuring entirely hand lettered and illustrated designs, coupled with vibrant and eye-catching colours, all products are crafted with love and attention to detail using high quality card stocks.
Veronica is a light-hearted designer who believes in pouring personality and quirkiness into everything she creates. With a fine art background, Veronica has all the skills necessary to create beautiful design, whether it be wedding invitations, greetings cards or business stationery, you can be sure that your ideas can be acheived and embody a spirit of fun and wittiness whilst remaining stylish.