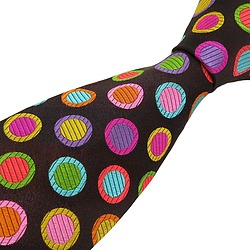 I've been creating professionally for a number of years (I had a successful business as a Barbie doll customiser whilst I was living in San Francisco, USA, for 14 years) and discovered the silk mills in Sudbury, Suffolk, a few years ago, on a trip home. Back in 2010, I returned home to the UK, hungry for new adventure and so decided to leave the doll business behind. Thus, VaVa Neckwear was born!
Bright colours and strong design have always been a personal hallmark of mine and how I dress, they make my heart and soul sing, so it was only natural for my neckwear to reflect that. I'm also a firm believer in quality that will last, so only use the very best tie silks, interlinings, thread and findings that I'm able to source.
I hope and trust that my ties and bow ties will bring you and your loved ones as many smiles and as much enjoyment in wearing them as they bring me in creating them.