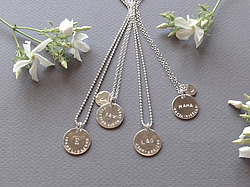 I love making jewellery with inspiration, that reminds us of the good things in life and the people near our heart. All my pieces are hand-forged and -finished and make wonderful gifts to either yourself or to the wonderful people in your life.
I hope the wearer of any Vanessa Plana jewellery will feel its positive and happy energy.
I am always flexible with my designs and happy to hear from my customers so please get in touch by clicking on the 'ask the seller a question' link on the product page, and I will try to help.
Keep your feelings positive. Remember the people who love you.