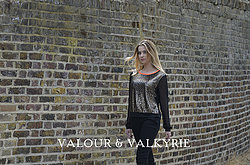 Valour & Valkyrie delights in cutting edge design with intricate detailing. Draping and folding are the signature handwriting of the brand with must have trend pieces for each season. We aim to arm you with an array of beautiful clothing in sumptuous fabrics at accessible prices. Each item is lovingly designed and each fabric chosen for the way it hangs on the body and contours your shape, adding style, fashion with each layer. The collection is designed to sit together for a capsule wardrobe or effortlessly layer into your existing favourites to give you the perfect outfits to take you from day to evening in style.
Each collection is named after a Legend , Fairytale or Folklore and the story underpins the design sensibility and inspiration for the look.
Step into the blissful world of Valour & Valkyrie: be enlightened, be uplifted, be inspired by leading, independent British design and style.
Our brand name is derived from 'Valour' signifying strength and honour, and 'Valkyrie' the Goddess from Nordic mythology who was the Saviour of souls of the brave. The range is based on ethereal illustrations from the turn of the century and the craft in creating a garment.
Beautiful fabric mixtures, vintage prints re-worked, innovative cutting and a concise colour palette are key to the range. We pride ourselves on individual and feminine clothing with attention to detail.