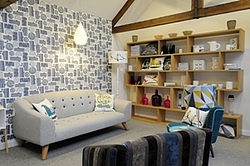 Uniquely Eclectic in Holt, Norfolk, is a unique family project which brings an eclectic blend of contemporary and retro furniture and home accessories to the market. The carefully selected, cutting edge collection consists of an original mix of new and vintage products which we love, and believe others will too!
You will find our unique collection consists of beautiful pieces of furniture, soft furnishings, home accessories, and interior gifts in a contemporary vintage style, as well as recycled classic furniture which has been reconditioned with a fresh modern twist. At Uniquely Eclectic we aim to provide customers with an opportunity to purchase an eclectic range of interior furniture and furnishing pieces which complements their particular personal taste while reflecting their individual style and appreciation of design.
Our vision mixes contemporary retro with vintage accents, covering exclusive designer classics from the mid 20th century to distinctive modern statement pieces. Wherever possible we source British designed and produced pieces from both established brands as well as up and coming designers. All our suppliers complement our primary principle to provide customers with beautiful, interesting products which add value to their home while also being an investment for the future.
Whether you are looking for a 'unique' piece, or an 'eclectic' range for your home, visit us at Uniquely Eclectic.