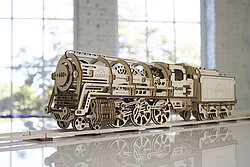 We are proud to be the official representative of the recent Kickstarter smashing success UGEARS – a collection of new generation eco-friendly plywood mechanical construction kits suitable both for older kids and adults.
At the moment our range comprise of 9 amazing mechanical models for self-assembly with details laser pre-cut in thick plywood sheets which come in beautiful simple design boxes.
What distinguishes UGears from other self-assembly models? The heart of the precise mechanisms consists of all sorts of cogs, rods, pendulums and gears. Put together, they make a unique, moving model with manual winding. Such a mechanism, set in motion, looks like a Swiss watch through a magnifying glass of a watchmaker.
Who are they intended for? For anyone who likes modelling, collectables, crafts, interesting hobbies and beautiful high-quality eco-friendly products ... for anyone who would like to teach children how to construct and show them the laws of motion... for anyone who would like to treat a special person or themselves with a very special gift. For growing number of fans of Ugears… It's For Everyone.