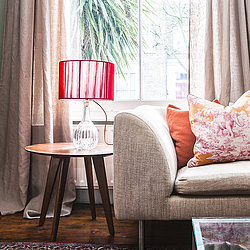 Decanters are beautiful objects. Made from crystal and glass they are often hand cut in stunning designs and made into wonderful shapes. Some of them are Georgian, so are around 200 years old, and yet the designs and shapes are very modern and would fit in well in any stylish contemporary interior. They reflect the light and sparkle even without the light being switched on. Their sculptural shapes make wonderful objects alongside your other pieces of art or decorative items. Instead of being discarded or languishing in the backs of cupboards, they can be transformed into lamps for the bedroom, sideboard, chest of drawers, book shelves or anywhere that will lift the room with a special piece of lighting.
Each decanter is carefully selected for its uniqueness, rarity and style. Some of them are almost 200 years old and some are relatively new but they all are one-offs unless they are a pair. Matched up with a modern lampshade in silk, cotton or linen they will give your home a unique style whether it is a classical setting or a stylish modern interior. You will have something that no one else will have anywhere in the world.
I have given them a retro silk covered cable, and they come with a UK plug and an inline switch. The only thing that is old is the decanter itself. All other parts are new. The lamps are hand assembled in the UK and take an E27 bulb that shouldn't exceed 60w.
Give these lovely unique objects the chance to sparkle again in the light and make your home a stylish environment with individual character.
Henri Davies (designer)