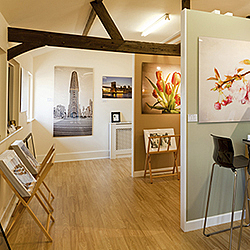 From the Italian for 'your walls', Tuomuro is an exciting studio gallery with limited edition fine art photographic images, puzzles, cards and all sorts of exclusive goodies to solve your gift conundrums.
We're a family of contemporary artists, photographers, painters and graphic designers and together we design and make hand finished wall art and gifts. We produce all our works ourselves in our Hampshire studio. Our pieces are ideal for both the modern and traditional home, and we've tried to make everything as affordable as possible.
Majoring in acrylic art prints with their stunning vivid colours, we exhibit a superb variety of images ranging from exciting cityscapes of London and New York to creative floral studies. Not only do we sell wall prints and acrylic art, we also sell fine art greeting cards, 500/1000 piece puzzles and iPhone cases.
We are proud to showcase the work of talented new British artists and designers through our visiting artisan scheme. Our ethos is to allow these artists the freedom to tell the story of their art themselves, to explain the inspiration and concepts behind their work and so reach a wider audience.