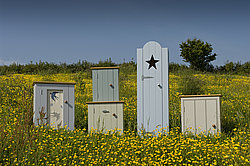 Welcome to Tumble-Home, the south Devon furniture and kitchen designer/makers. Founded in 1996 by Angus and Sarah, the company is now firmly established as a small scale, 'hands on' producer of unique, quality furniture and accessories.
After setting up home with their growing young family of boys they realised there was commercial potential for the lovely pieces they had made for themselves.
Angus self taught the art of furniture making & kitchen design. Utilising his brilliant perception of shape, line, proportion & colour he strived to create gorgeous robust, functional furniture & kitchens. Angus is a Fine Art/Sculpture graduate and Sarah a Contemporary dance performer/Technique teacher, who trained at The Laban Centre, London. After college they returned to Devon to have their first Son, Jasper in 1993, followed by Felix, Rufus and Monty.
Angus & Sarah would say that their life is quite full. The boys keep them busy and Tumble-Home is their creative outlet. They decided a few years ago that it was no longer fare to keep Tumble-Home a coveted south Devon secret, and it was time to unleash their designs on the internet to fulfil their dreams of sending their lovely furniture to anyone & everyone who'll love it and give it a good home.