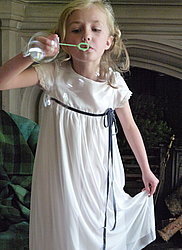 Tulip and Nettle children's clothes are made FOR children not BY children. Our clothes are all manufactured here in the North East of England in a few small excellent factory units, by properly paid adults. We are a truly local company. Everything from our photography to dispatch of your order is from our Northumberland base. We keep our production levels small, so the range will always be special.
We started with just the Tulip label in 1998. Nettle came into being when a customer pointed out to us that her 12 year old son found the Tulip label in his trousers a shade girly. The look was originally inspired by the owner's children, but the name came from her dogs! Tulip was a much loved Pug and Nettle is a Jack Russell.
Our design base is in a converted stable block in rural Northumberland. The range is actually 'designed' as opposed to being simply sourced from factory outlets. Our designer trained and later taught at Central St Martins and has worked extensively on several clothing ranges throughout Europe.
Everything we manufacture is unique to us (apart from a few carefully chosen bought in accessories and toys which are sourced from all over the world) and is a deeply considered element in a balanced collection. The range is well priced for what is essentially a designer product. Small production runs, top quality raw materials, and attention to really good shape and cut.
Clothes to love, cherish, and above all, actually wear every day.