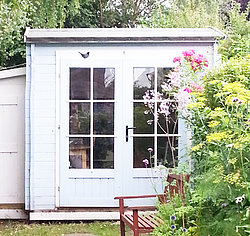 Tozzy Bridger is an artist maker who lovingly creates her own handmade prints and gifts from her 'Blackbird Studios' garden workshop deep in the Hampshire countryside.
Inspired by the flora and fauna of our English countryside Tozzy has been creating beautiful artwork for over twenty years. Originally trained as a fine artist specializing in the printmaking methods of lino cuts and etchings Tozzy has been exhibiting work since she graduated in 1993.
Tozzy has now put her artistic talents to work producing a range of crafted gifts to compliment her fine art prints. Using her original linocuts and embossed print designs and an innovative collage technique Tozzy presents an exclusive range of personalised gifts for your enjoyment.