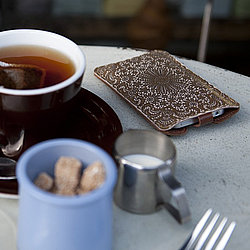 Tovi Sorga creates beautiful, handmade printed leather accessories. Drawing inspiration from fashion, nature, art, music and history, his unique products will help you stand out from the crowd.
Tovi's original designs are printed directly onto 100% fine, calf skin leather and cow hide, primarily sourced from the few remaining British tanneries. Tovi selects choice hides that he treats himself to achieve the trademark sensuous, 'buttery' texture of his products.
Phone, laptop, tablet, card and passport cases are lined with soft leather and the outer layer is tough and durable, making them the ideal protection for precious kit when you are out and about, on the move. Tovi's best-selling cuffs are not only beautiful but also functional: equipped with a secret inner pocket that is perfect for holding notes when you need extra freedom to enjoy yourself.
Choose Tovi Sorga creations for fabulous, unique and lasting gifts, and when you are in need of a touch of luxury.