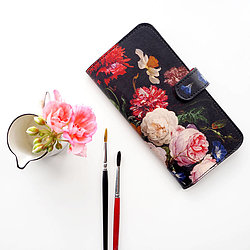 Experts in printed leather, Tovi Sorga produces some of the finest genuine leather finishes available in the world today. Using a unique technique that produces rich, saturated colours and astonishing detail without the lacquers found on the majority of today's printed leather products, Tovi Sorga accessories are remarkably sensuous, maximising the tactility of natural hides.
Tovi Sorga started out hand-crafting all his accessories on a vintage hand-turned Singer sewing machine. This ethos of meticulous craftsmanship continues with a fully bespoke and personalised service available on all products, from best-selling tech cases to luxurious clutch bags and beautiful, unique gifts.
The brand is committed to sustainable luxury, and sourcing responsibly produced and local materials is paramount to the manufacturing and packaging processes. Only leathers recycled as a waste product of the food industry are used, and tech cases employ state of the art microsuction technology to make them 90% biodegradeable.
These are ethical, beautiful, and utterly luxurious accessories that allow you to show off your style.