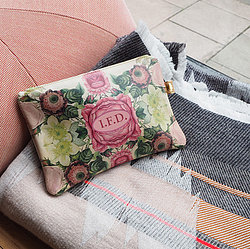 With a unique printing technique that produces rich, saturated colours, astonishing detail and a sensuous finish, Tovi Sorga has built a reputation as an expert in printed leather.
After nearly a decade of mastering the material, all our distinctive accessories are designed and printed in-house onto 100% fine calf skin, selected and treated by Tovi himself to achieve a trademark 'buttery' texture.
Tovi started out making all his products on a hand-powered vintage Singer sewing machine, the only tool with which to achieve absolute accuracy and control. The brand now marries this unflinching commitment to exceptional craftsmanship with beautiful, cutting-edge style.
Tovi now designs and works with his partner, Agnes Davis, from their base in Bristol. They love the relaxed, creative atmosphere of the 'best city to live in in the UK', and it shows in the ever-growing scope and success of their work.