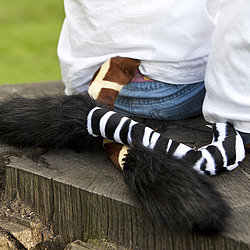 Tots Tails produces handmade clip-on soft animal tails for children.
Watch in delight as a child clips on their tail and becomes transported into an imaginary world of endless adventures.
No need to pull on a costume or start an argument to take one off! Just clip on the tail and your child can play in the house, sit in the car, ride a scooter or help you shop! These tails go everywhere and are a brilliant conversation starter!
The tails clip on to trousers, shorts, skirts, dresses, t-shirts, jumpers, coats and pjamas!
The range currently consists of; tigers, lions, panthers, leopards, zebras and giraffes.