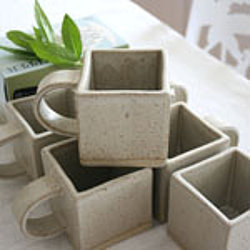 Tom Butcher produces both sculptural pieces and functional tableware from his studio on the shores of Loch Long, Scotland, where he overlooks the Arrochar Alps and is surrounded by the inspirational scenery of the Loch Lomond and the Trossachs National Park.
The Loch Long Stoneware range is inspired by back to basics rustic living. Originating as a range of simple, functional items designed for family and friends, it has now developed into a full and rapidly expanding collection of earthy, multi-functional and robust pieces ideal for everyday living.
Tom Butcher graduated from Brighton University in 2000 with a 2:1 BA Hons degree in 3D Craft. Teaching in Hackney, East London, it was a long term and slightly distant dream to be able to make a living as a full time potter. Making a huge lifestyle decision, and taking a fairly substantial risk, Mansefield Studios was set up in Arrochar, Loch Long in 2004. Tom lives and works at Mansefield with his wife Fiona, and three children, Daisy, Ollie and Sam (and border collie Badger). Fiona and Tom were the first couple to be relocated by Phil Spencer and Kirsty Allsopp on Channel 4's Relocation, Relocation.