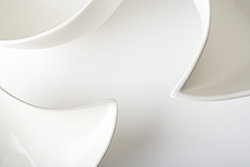 Tina Vlassopulos is an award-winning potter living in London. She has exhibited widely both here and abroad and her work is in several public and private collections.
Five years ago Tina started developing a new range of domestic ceramics to complement her one-off pieces. The result is a range of elegant vases, dishes and bowls, which manage to combine graceful beauty with usefulness giving function a sculptural twist.
The work is designed and produced by Tina in small batches in her studio in London. It is made from high-fired earthenware, which is hard-wearing and is finished in a semi-matt cream glaze.