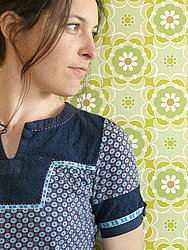 Hello and welcome to my little store full of goodness handcrafted by me, Annabelle Ozanne, the textile doodler behind Three Red Apples, from my studio in Devon.
I make a range of freehand embroidered textile artwork and home accessories, most of which can be personalised, using a mix of vintage, recycled and new textiles.
My work has an eclectic, vintage vibe. I use my sewing machine to 'draw' straight onto the fabric. No fancy tools, I simply move the fabric under the needle. I also like to combine contemporary embroidery with raw edge appliqués, acrylic paint and ink.
I hope you enjoy browsing through my creations, and find that perfect little gift for yourself and your loved ones!