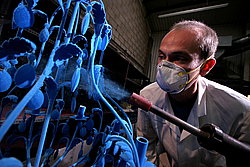 My name is Simon Thomas, as in 'Thomas & Vines', and as a third generation flocker in the family business I have been flocking for as many years as I can remember.
We have been flocking since the 1960s and have developed a range of gorgeous flocked chandeliers and designer lighting as well as mirrors, furniture and items of decor for the home. Each item is individually flocked by hand, (most likely by me) at our premises on the outskirts of London.
Branching out into producing our own range of mirrors, chairs, lights, candlesticks, photo frames and chandeliers was the result of increasing requests from designers, interiors specialists, design students and members of the public wanting individual items flocked.
Our flocked Natasha chandeliers were finalists at the Design & Decoration awards and many pieces of our range have featured in numerous interiors magazines and publications including LivingEtc, World of Interiors, Easy Living and Elle Decoration.