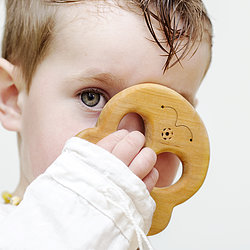 We are a London (Fulham) based company.
Our business was born through our concern that modern children have become increasingly exposed to artificial toys and materials. We wanted to provide children and their parents with an alternative so that future generations can continue to enjoy the wonder of contact and play with toys made in natural materials.
We hand craft our toys and gifts in the EU, in Baltic States, a region with a strong connection to the ancient bonds between man and nature.
Natural and safe toys are fundamental to our philosophy. We guarantee the quality of our toys which all comply with the European Union CE standard and above. Our wooden products have been carefully crafted from sustainable European forests which are replanted strictly according to the EU arboriculture regulations and / or from recycled timbers.
We are proud to share our products with you and your little ones. Enjoy!