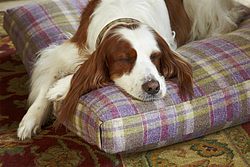 Whatever the style of your home, whether country classic or contemporary, The Stylish Dog Company has a wide range of luxury dog beds and dog accessories to complement your interior.
After 20 years in marketing, 3 house renovations, god knows how many house viewings (yes one of us was an estate agent!) and the arrival of 2 of the most wonderful dogs ever ( we might be slightly biased), we launched The Stylish Dog Company in 2010.
We love our dogs - they are our family - but we also love our homes; interior decoration and soft furnishings are our passion. So we design and make stylish dog beds and dog accesories that are not only practical and of the highest quality but that will also look great in your home. We are constantly updating our fabric choice in line with the latest interior trends.
We are also passionate about supporting local business which is why all of our products are handmade to order exclusively for us in Britain.