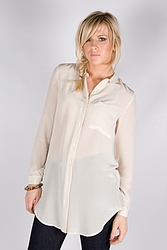 Sometimes we're lucky enough to find a gem; a plain black jacket we wear regularly, a lightweight knit we take everywhere, a white tee we wish we'd bought five of, but unfortunately it doesn't happen often. So, here at The Style Standard we're dedicating ourselves to tracking down these essentials; your future wardrobe heroes.
Working with a range of leading brands, we aim to offer a selection of good quality, reasonably priced contemporary classics that will prove reliable, dependable and easily adaptable to your own personal style; whatever the trend, whatever the season, and whatever the occasion. Because we believe everyone needs some go-to garments, even if it's just to make getting out of the door in the morning a little less painful!
The Style Standard has built a collection of essential classics, including luxurious cashmere from Jack Brodie, simple Breton tees from Armor Lux, sleek tailoring from Pop Cph and supersoft jersey basics from Charli alongside a select edit of wardrobe heroes from Selected Femme, Josie, Second Female and Margit Brandt.
'Will make getting dressed in the morning joyously straightforward!' Sheerluxe.