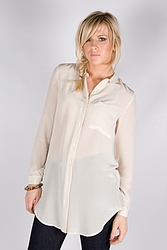 OK, think about it. Have you ever...
...come home from a shopping spree laden down with bags but still unable to put an outfit together the next day?
...opened a full to bursting wardrobe and still thought you have nothing to wear?
...loved a new trend but not been able to match it with anything in your wardrobe?
...finally got your hands on the latest "must have" only to find it doesn't go with any of your previous "must haves"?
Well we have. And that's why we started The Style Standard.
Sometimes we're lucky enough to find a gem – a plain black jacket we wear constantly, a lightweight cardigan we take everywhere, a white tee we wish we'd bought five of – but unfortunately it doesn't happen often. So, here at The Style Standard we've dedicated ourselves to tracking down these essentials - your future wardrobe heroes.
Working with a range of leading brands, we aim to offer a selection of good quality, reasonably priced contemporary classics that will prove reliable, dependable and easily adaptable to your own personal style – whatever the trend, whatever the season, and whatever the occasion. Because we believe everyone needs some go-to garments, even if it's just to make getting out of the door in the morning a little less painful...!
Since 2011, The Style Standard has built a collection of essential classics. Our range includes luxurious cashmere from Jack Brodie, simple Breton tees from Armor Lux, sleek tailoring from Pop Cph and supersoft jersey basics from Charli alongside a select edit of wardrobe heroes from Selected Femme, Josie, Second Female and Margit Brandt.
'Will make getting dressed in the morning joyously straightforward!' Sheerluxe.