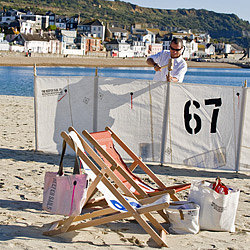 The Reefer Sail Company has been 'upcycling' old sails and wings into a diverse range of original new products for a sustainable modern lifestyle since 2008. Each item is totally unique, often bearing the evidence of its previous life as well as original seams and detailing.
All our products are made in our Devon sail loft from rescued yacht, dinghy & windsurf sails, kites, paragliders, hang gliders & microlight wings. We also use offcuts and roll ends from a number of sailmakers. Sails and cloth are sourced from individuals and commercial organisations via our nationwide recycling programme. We pride ourselves in ethical, sustainable manufacturing and where possible source all sub-components from UK companies.
We're determined to set new standards with the concept of recycled consumer products. Whilst it would be much simpler just to label our products as 'recycled' we believe that the story behind our products is an important and interesting feature that sets us apart from our emulators. For that reason the branding on each of our products includes a unique code number which can be used to discover the story of the sail used to make the product. Entering the code number on our website will show a photograph of the sail used and all known history. in 2011 we introducted 'Q.R' codes on many of our designs allowing instant smart phone access to this on line database. As the NOTHS strap line says, Everything Has A Story. Our products genuinely do!
The diverse sources of the sailcloth allow us to offer our products in a number of different finishes to appeal to all generations of customers. We produce vintage style products from tan coloured sailcloth, nautically inspired classic white products and a more youthful range from the vibrant bright modern colours we source from extreme sport sails. Sailcloth specification varies greatly depending on the source and we're careful to ensure the products we make use cloth equally appropriate for the new use as its previous one.
Every sail is professionally laundered without harmful bleaching additives before processing and the minor stubborn stains, marks and abrasions that may remain add further rich character to our products without detracting from the suitability for its new role.
All our products are proudly designed and manufactured in Devon using traditional sail making techniques. We test Worldwide before release to ensure they perform as we designed them to. With corporate clients as diverse as River Cottage and Mark Hix to Estée Lauder and Elizabeth Arden we are acknowledged as both the orginal and expert in our field. Beware of substandard copies of our products on this site.