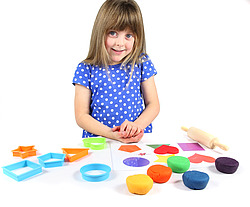 Handmade dough, tools, accessories and lots of fun for ages 3+
The Dotty Dough Factory was born out of a need to keep myself and my children busy, and so far it's working! All my dough is carefully made by myself and all dough tools are carefully selected and tried out, it's lots of fun! We offer many colours including glittery, Party Pots, Rainbow Packs and more.
As a mum I am keen for my children to enjoy as much creative play as possible, my aim is to stimulate their minds through roleplay, and to learn while having fun, which is where mydough comes in. It is a fantastic form of sensory play for little ones. They learn so many skills through playing with dough, usually without even knowing it!