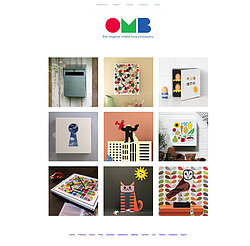 The Original Metal Box Company was formed in Gloucestershire i 2007 by Clifford Richards and George Buchanan, born of a desire for quality-crafted British products for the home.
Clifford Richards is one of the Britain's most distinguished designers. In the swinging 1960's and 1970's, he became famous for his popular collection of carrier bags, cardboard boxes and the slotty range of animals and politicians. In recognition of his extraordinary output he was elected a Fellow of the Chartered Society of Designers and today he is the chief designer of the Original Metal Box Company. All the products here have been designed by Clifford and you can see the hallmarks of his hand: the strong graphic line, the bright colours and the subversive humour.
The current collection includes the iconic Kong Box and Seed Boxes, which have won awards and commendations. We also produce bathroom cabinets, outstanding postboxes, egg storage boxes, and boxes for people who love their pets but don't love the associated clutter.
Clifford Richards lives in Cirencester, close to the factory in Malmesbury where our products are manufactured. As with all our excellent products, Clifford Richards was Made in England.