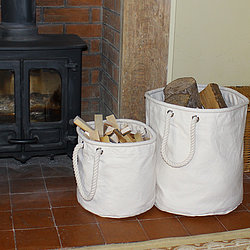 The Original Canvas Bucket Bag Company is based on the Isle of Wight and was established by Becky Samuelson and Nicola Price to offer stylish and practical canvas buckets and bags.
Made out of 100% strong cotton canvas, our canvas bucket bags come with 'natural' rope or soft cotton rope carry handles. They have rope in the rim for added strength and fold flat when not in use. Hugely versatile, our canvas bucket bags combine style with practicality and look good anywhere.
These hard wearing canvas bucket bags provide a useful storage solution around the home for toys, logs, throws, linen, shoes.... Our Big Canvas Bucket holds 'loads of stuff' and our medium sized Canvas Bucket is a slightly smaller version of our very popular Big Canvas Bucket. The traditional bosuns style bucket with outside pockets is great for holding all your gardening tools (in fact it's great for holding any hobby stuff - knitting, art materials...). For a trip to the beach our canvas beach bags are fantastic for carrying everything you are likely to need. They also make great shopper bags for carrying all your shopping home.
Our Natural Canvas Log and Kindling Basket make the perfect fireside accessory for wood burning fires.
Our canvas bags come plain or with screen printed designs - these original eye catching designs are by artist Becky Samuelson who was inspired by living by the sea on the Isle of Wight to come up with the range of nautical designs.