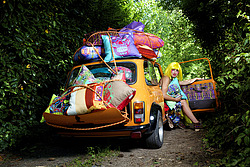 At the centre of The Loving Chair Company lies a family of audacious artists and courageous creators, who together design fabrics and produce bespoke pieces of up-holstered furniture, soft furnishings and home accessories that add stylish usable works of art to interior and outside spaces.
The latest digital printing technology enables the team to produce fabrics with individual designs that bring a unique character to the products.
As well as producing new products, The Loving Chair Company are conscious about the environment and use their artistic flair and passion to reinvent tired furniture into new one-off desirable objects. Since its humble beginnings in 2012, when the family's farmhouse barn was converted into a workshop the business has progressed into a diverse home and lifestyle online boutique.